"In fact I'll never forget when the first samples came in and everybody came up to inspect it, and these guys almost cried, because the product was what we were trying to do and having a hell of a time trying to do."
Dan Smith, Director of Marketing, Fender USA in 1992 about JV Fender guitars produced in Japan.
Who believes that JV Squier guitars are the same as cheap Vietnam Squier Modells  should inform themselfs thorougly or move on to the other guitar sections. Today you will hardly get a quality JV Squier under 1000 Euros.
Not too long ago I didn't understand, why great gigging guitarists from well known bands were playing Squier guitars until I got my first one by accident. As a result I opened this section on JV guitars and became a convinced collector. I am really amazed at the quality of the so called Fender JV Instruments I have played so far and which I own now :) 
They were built between April 1982 and late 1984. In 1985 the A-Series started out which in the beginning mainly consisted of the same parts as used in the JVs.
The necks are a little thicker than the Fullerton AVRI guitars, quite comparable to 58-61 PreCBS necks. Workmanship was outstanding and much superiour to what was produced by Fender USA during the 70-ies which sells today for over 3000 Euros!!
You will have to consider various aspects. First buying online is quite risky because a lot of these guitars have been played heavily and treated badly. A lot of them are partscasters. A lot of them are in a poor unplayable condition and need replacement of hardware or refrets which will push the cost of having them ready for playing. A poor 900 Euro Squier will easily end up costing double after maintenance. 
I prefer 85 models since they have great sounding american pickups and thin nitro finish. The wood is great. Problems can show up with the frets. If you don't like vintage frets you will have to invert in a refret which is expensive here in Switzerland (500 Euro). If these vintage frets were heavily used you won't get around this inversion. Then there are the mechanical and electronic parts. If they look very oxydated then most likely you will have to change tuners, saddles, tremolo springs and the electronic circuit. I was very lucky to get either instruments that were restored or hardly played. I avoid these beat up instruments. My burgundy squier was even refinished with nitro and is one of my best instruments now. Thanks Didier :)
Another example is my red Tokai (Menu: Others) with a fantastic neck which I pimped up for a value of 1000 Euro but this guitar is now closer to a vintage PreCBS than any other instrument I own. If you don't have the money for real good Vintage Strats these instruments are the closest you can get. But you might have to invert some time and money. Unfortunately these investments will not be reflected in rising value. My purest JV in mint condition is the black JV 57/85. It plays like hell but is also highly collectible. I was lucky to get some great Strats. Prices have raised even since these few years of owning them and they will keep doing so.
One of the most known collector is Rene Grüter from www.stratomaniac.com You will get a lot of information from his page. He has a price recomendation for JV Modells. These prices are not accurate anymore. Even he sells his modells now for a higher price than his recomendations. 2-3 years ago you could get a JV St 65 for 900 Euros today you have a hard time finding one under 2000.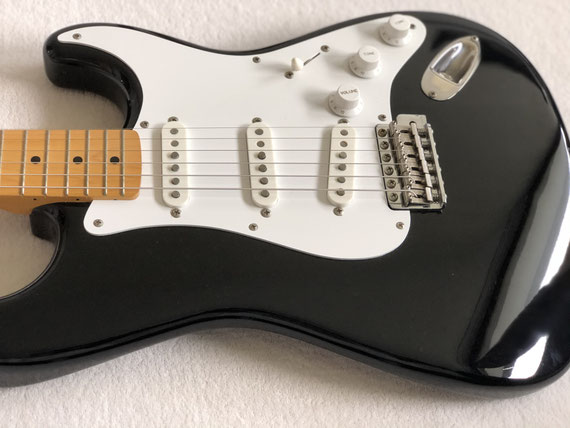 Unbelievable Fender JV Collector and Player in "Closet Classic" state!!! A killersounding and playing Strat. This beauty was made as one of the first Fender JV Strats in May 82. A resonant piece of history that demonstrates the supremacy of these Japanese guitars built in Fujigen. She is in an all original, mint - closet clean state with Grey Bobbin PU. Even the written warranty comes along with it. It is without the original case. I would have had to make a loan to buy that one extra.
3.4 kg
2'900 Euro
---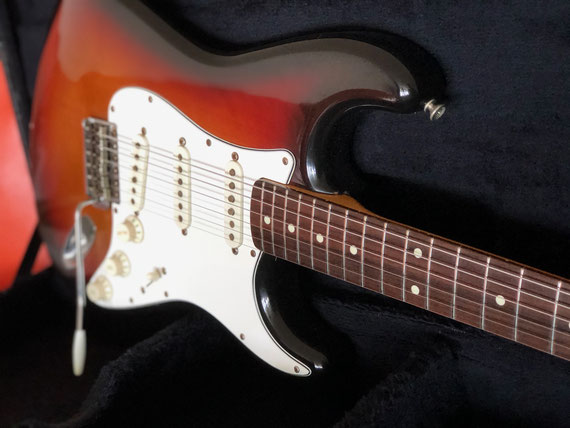 Yes, these JV Strats are ridiculously great instruments. This one is an affordable JV 62-115 with a A-Series tag, because it was produced with the same parts as the JV Series but was one of the first A-Series Stratocaster to be sold. Think of an early 65 CBS Strat. All original, in good condition. Hardly played. There are few marks on body and neck and there is oxidation on screws and saddles. I guess one would call this Journeyman Relic. Gorgeous beauty, great sounding, 3.3 kg. From the same collector my CAR JV came from. Fantastic, inspiring instrument. The Neck-PU has this dark mellow vintage sound you only get from old guitars. But then she develops a quite percussive sound which is great for vibrato use with chords in Surfsounds or old school cuban sounds. Great!! The frets are vintagefrets still in great playing shape. No need for a refret unless you prefer modern frets like me. Since I do not feel like selling soon, I might consider a refret with bigger frets and replacing the 3 way switch. Until then I enjoy her, just the way she is :) I will post upgrades.
Upgrade: Raw Vintage Springs
Original springs are in the case and will be delievered too. If you wish I will take them off and adjust the tremolo to the old springs.
Upgrade: Urs from haensler-electronics replaced the 3-way to a 5-way switch. Solderings were untouched until that point. There has been some oxidation on the 3-way switch which makes it an upgrade. Can be reversed.
Update 14. Jan 2022
I was thinking about trading this guitar. So I wanted to make sure that the strings lay really as low as possible. Since the client was used to modern guitars. In order to have more sound I prefer the strings a little bit higher than just a pleck thickness. When I went about to tighten the trussrod a bit I realized that it it didn't move in neither direction. Since the neck is straight and plays well  I don't have to worry that the trussrod is broken. I will bring it to Matz for adjusting before selling.
1800 Euro
---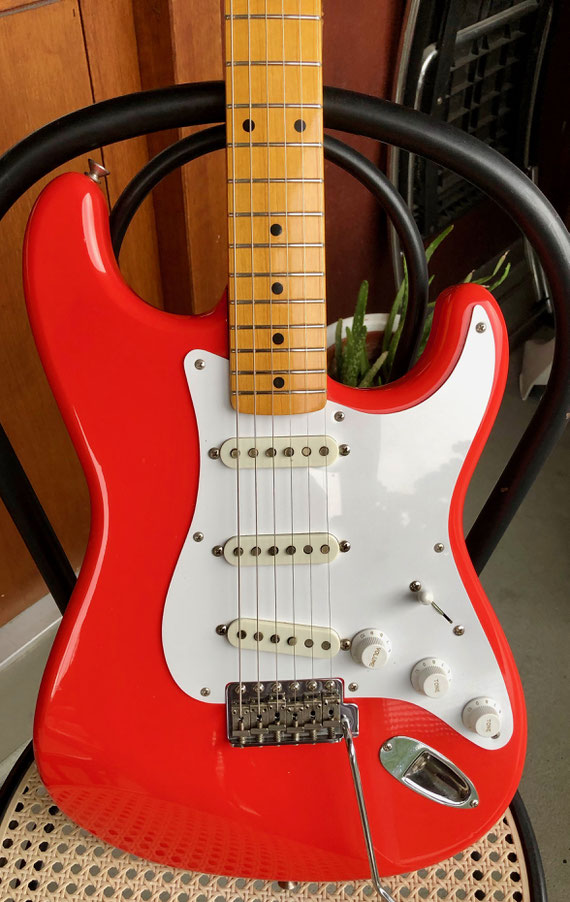 Another JV!! Fiesta Red has been my guitar dream colour for years since the days of M.K. This one is a real beauty! When it showed up on reverb I couldn't resist: Fender JV, Fiesta Red, almost unused. Once you look closer you see some signs of usage. But even frets are at 95%. She plays with a full JV fret profile.  Matz and Urs from Matzguitars.ch and haensler-electrics.ch as well as research on different forums gave me the necessary security about authencity. I additionally offer you here all possible pics to get  all the necessary infos yourself. Since this guitar is almost in mint condition with original parts, it is of much higher value than my 62 Squier which was upgraded with a lot of money. That's the logic of the collector market which I try to avoid.
The instrument was delivered in a poor playing condition. So I set it up  myself first and then let it finetune by Matz (tremolo, saddle purity) Now it really is a great JV example with great sound and playing comfort typical of the JV era. I do not dare to change anything on these original materials in order not  to damage its value. But actually there is no necessity to do so. Besides of being a collector's item it is also a great player which makes it part of this family.
Upgrade: Raw Vintage Springs
Original springs are in the case and will be delievered too. If you wish I will take them off and adjust the tremolo to the old springs.
1800 Euro
---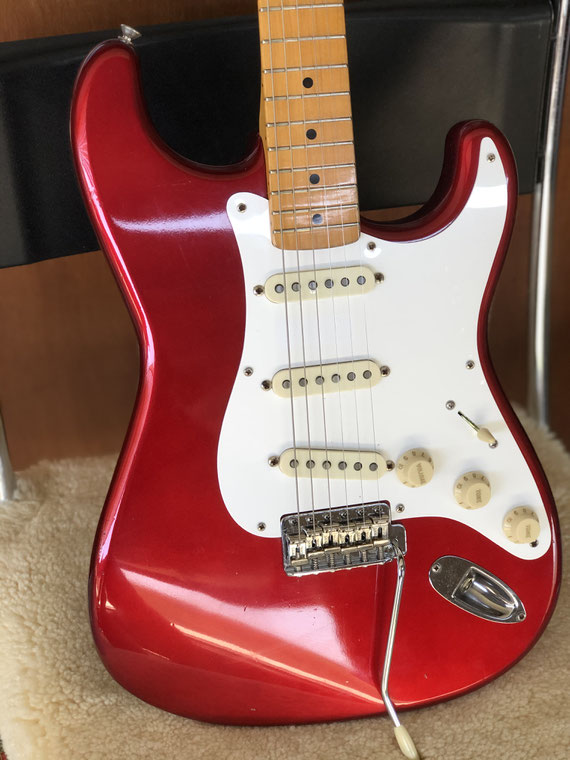 Yes, finally I am hooked on the JV-Strats. The Squire below fixed me and this one really confirmed what great guitars the Japanese built in 82-84 are. I sold my American Fullertone and I have to admit this guitar suits me much more. The neck is thin but more comfortable to play. I only wish they had bigger frets. If this guitar is really intended to stay I will invert in new frets which will lower a resell. I tried to buy this guitar in december but was not ready to invest so much money as was being asked at that time. Then it used to be collector item. So someone else bought it and replaced tuners, saddles and electronics. The black bottom pickups remained. I am not sure if it was wise to replace the tuners and saddles. I had made some negative experience doing the bridge change on my 63 Jazzmaster. The old ones are still there to try how the guitar sounds with them back on. To be honest these tuners work really much better than the old tuners. As long as I really like the sound I will keep things the way they are. She is a beauty!!!!! The first seller was a JV collector, selling all his stuff. He claimed that this one was the best player he had. I was sceptical, especially since the second buyer resold under price half year later. I took the risk and this really turned out to be a fantastic guitar. Very resonant, crispy, fresh. It reminds me of my 80ies Tokai, only much more resonant. This guitar is very distinctive from the rest of my Strats. It doesn't compare to my '58, although they have the same wood (ash). With these pickups they sort of have their own sound I really dig. It comes very close to the Dire Straits sound of the first album. Actually the sound that made me want to play a Strat! Until I refret the guitar it will remain pimped with the option to bring it all back to collector specs.
Update: After replacing the used strings, she shines!! No need to change anything except the frets for more comfort.
update 7.9.20:
Matz refretted this great guitar giving it the perfect playing comfort. 
Probably one of the best sounding and playing JV's you can get with all original parts which also makes it collectible. If you don't mind JV necks and traditional radius this guitar is way better than good CS Strats.
Upgrade: I tried Raw Vintage Springs. I didn't like the effect on this guitar. The sound became less snappy more washy. Definition got lost. So I replaced them with the regular springs (only three) Matz had put on after the refret.
2990 Euro
---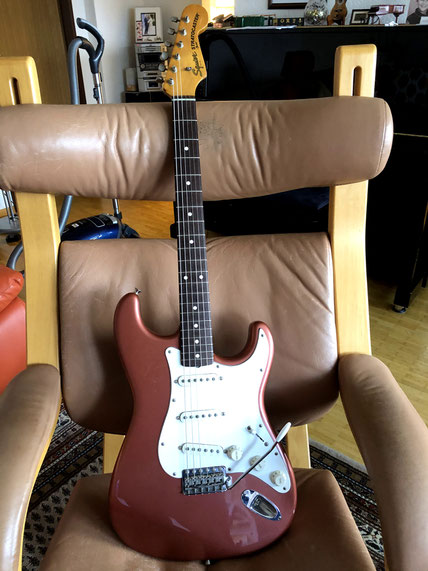 Can't believe I bought a Squier. Actually it is a JV 83 Squier from Fujigen Japan. I had to learn that these Instruments were superiourly built instruments. Here more infos on the extraordinary quality of these instruments:
https://stratomaniac.com/fender-squier-made-in-japan-mij/vintage-fujigen-stratocaster-telecaster?start=1
https://blues-guitar.ch/fender-japan.html
One owner of this guitar decided to upgrade the guitar extensively with parts of superiour quality. So this guitar was professionally refinished on body and neck with a very light nitro finish. The PU were replaced with Lindy Fralin 54. The electronics were updated, so you can lower the volume without any loss of highs.  Pleasant 3.4 kg and a low action to die for. Playing comfort is simply fantastic. Someone decided to pimp the highest quality into this JV Squier making it an unbelievable Strat!
The sound of this guitar is absolutely superior to all Reissues I have played so far. A fantastic player for a price you were able to get Pre CBS Strats in the 50/60ies.
These JV instruments are already highly sought after.  This one is a player not a collector but in the best way you can imagine. 
update 7.9.20:
Matz refretted this great guitar giving it the perfect playing comfort. 
The price doesn't reflect the streetprice of today. It is priced to stay. Upgraded Killer Strat! If you don't mind thinner JV necks and traditional radius this guitar is way better than good CS Strats. The neck does feel more like a 9.5 radius but according to Matz it is normal vintage radius. According to Matz Neck and Body are original but from two different instruments! A Killerstrat but not collectible.
My top choice for live gigs.
not for sale!